Main

programs

We believe swimming is an essential life skill.

That is why we provide a variety of choices to suit our clients needs & abilities:

Lessons are available from:

Monday - Friday 12:00 - 20:00 &

Saturday 8:00 - 17:00

Contact us to make a booking
Meet

the Team

All our staff members are trained and passionate Swimming SA Instructors

Cathy Normann (Founder/Owner & Coach)
After being a keen swimmer for many years, I was inspired to open up a swim school of my own. Aquarius swim school was founded in 1984 in Middleberg Transvaal and was moved to Port Elizabeth in 1986.
I have a total 26 years of experience teaching swimming. I attended the Aqua Tots course with founder Neil White and qualified as a baby and toddler instructor.
A love for children and water has kept me inspired and passionate about what I do.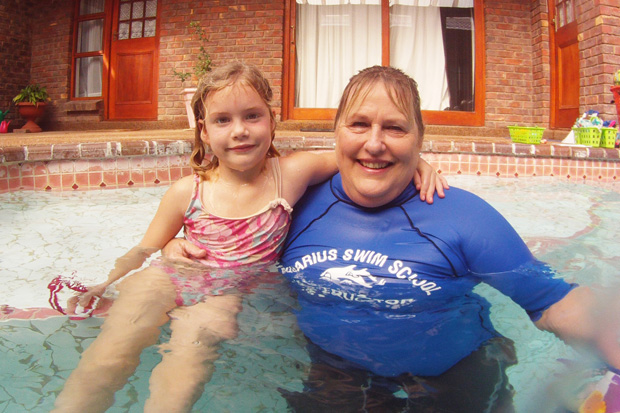 Tish Chamberlain (Coach)
I grew up in KZN where its warm in the winter and boiling in the summer so I spent most of my afternoons, after school swimming in the pool until the sun went down... my hair even turned green from being in the pool so much.
I spent a lot of time at the beach. This helped me develop the love for swimming.
I loved swimming in gala's in primary school. In high school I played First team water polo for Pearson.
I have been a swimming instructor for almost 5 years now and really enjoy teaching and working with children, I am also studying to be a school teacher.


Bradley Chamberlain (Coach)
Funny enough... growing up I never actually enjoyed swimming at all, I actually hated it through my primary school years, but as I grew older I gained a love for water and all water sports in general. I took up water polo in high school. This is where my passion for swimming and water, along with my keen interest in surfing, began.
I ended up playing 1st team water polo for 3 years, and received my school colours award for water polo.
Having the opportunity to teach others important principles internationally and locally, and seeing them learn and improve, especially the children, has always brought a unique sense of pleasure and joy.
Teaching swimming brings that same enjoyment and pleasure, knowing it will help someone one day.