Toddler

Program

For ages 8 months - 2 years.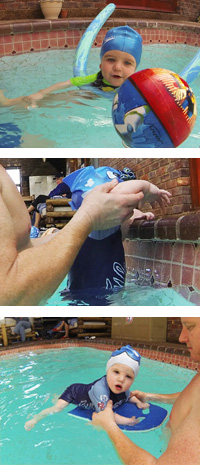 A fun lesson, with a serious mission.
With songs and games, our professional baby instructor will work with you and your baby on basic swimming and water safety skills, with you at their side.
Teaching your toddlers to swim and learning the basics of swimming including: breath control and gentle submersion, floating independently on the back and unassisted swimming for short distances on the front and the back.
The lessons are done in a very relaxed and comfortable environment. Routines are all done to songs in a fun and exciting atmosphere.
Great reasons

to teach babies to swim:

Water provides wonderful support and buoyancy for babies who learn to swim long before they can walk or even sit up!

While young babies cannot move around well on land, the weightless environment of the water is a great place for babies to exercise their young muscles! Swimming also improves cardiovascular fitness, a great lifelong benefit.

Some benefits:
- Babies get the opportunity to learn new physical skills; they are developing their neural network, laying the foundation for cognitive development.
-The toddler classes provide a great opportunity to exercise and increase their strength, which often results in the acquisition of other motor skills, such as standing and walking, earlier.
- Swimming provides the greatest form of bilateral exercise of any sport, which aids babies and toddlers in the development of coordination and balance.
- The exercise babies get in Toddler classes, as well as the relaxing warm water, stimulates a baby's appetite and improve baby's eating and sleeping patterns.

- Toddler class provides an uninterrupted, wonderful bonding time with your child. Swimming provides babies with lots of skin-to-skin contact with their parents which, psychologists say, strengthens the parent-child bond.
- A positive, early experience in the water gives babies and toddlers a head start on the mastery of water safety skills.
Our Toddlers often transition to more advanced private classes, as they often have acquired some of the building blocks of swimming ~ breath control, floating, and kicking on top of the water ~ in Toddler class.
Nothing speaks to our hearts more than the happy smiles of our babies and their parents in the water! Self-confidence and the setting and attaining of goals fosters a wonderful lifelong pattern of learning, a great way to give your baby a head start!
Swim

baby swim!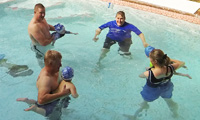 Toddler Program times:
The toddler program is offered once or twice per week, from Monday to Saturday.
The class is 30 minutes long in an indoor heated pool.